Blog
September 26, 2022
Terry Fox and Music in the Classroom
Image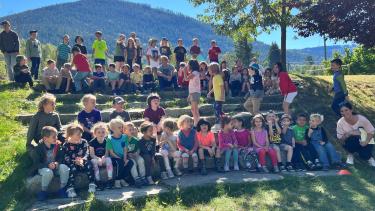 Terry Fox Day
It was an amazing Terry Fox Day on Wednesday! Thank you to Mr. Hammerich's gr 5/6 class for organizing a celebration of Terry's legacy. Blewett Elementary School is proud to announce that we surpassed our goal of $200 and raised over $450! Way to go Blewett families!
______________________________________________________________________
In the Classroom: Each month we will highlight one of our amazing classrooms. This month, Ms. Sparks and Ms. Walker hosted our staff meeting and shared with us different aspect of what makes their class special. Ms. Sparks also teaches music to our students in the school. Here is Ms. Sparks speaking to how music can be used for social emotional support:
The start of a new school year brings forth so many emotions for our students. There is excitement, nervousness, reluctance - you name it. With new classes and new students, supporting our kids socially and emotionally is at the forefront of our practice in September. This week, the new kindergartens came to music on their third day of school. Many are keen and ready to go! For some, it can be quite traumatic leaving their parents for the first time and being in a new environment with many new people. Research shows us that music can help support the emotional well-being of students and mitigate the effects of trauma. There is nothing quite facilitating this and watching this magic happen. This little group came to me with all the emotions and left with confidence and smiles.
                                                                                                                                                                                                              Ms. Sparks
_______________________________________________________________________
Reminders for this week:
Tuesday: - Fire Drill 
Wednesday: - Orange Shirt Day. Students should come to school wearing something orange. For more information on what is Orange Shirt Day, see this link here.                   
Thursday:  Dancing in the playground- There will be music playing for kids to dance to in the playground area at second break. If enough kids like to participate, this may be a monthly Friday event. 
Friday:   Truth and Reconciliation Day (no school)
Have a great week!
Jordon Konken